Thanks to all who came to Blue Mountain Gallery for the "In the Field, BallParks and Landscapes" show. If you missed it, or want to experience it again, here's a link to a video of the opening that includes a brief interview with the artist.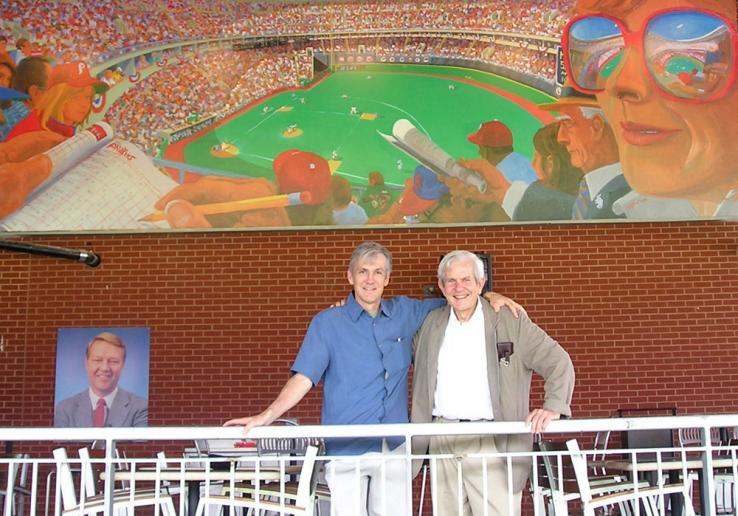 Max Mason III and Dad (Max Mason Jr) in front of the Veterans Stadium mural at Citizens Bank Park.
Max Mason (III) grew up in Lincoln, Massachusetts. After graduating from Vassar College with a degree in Geology in 1975 he came to Philadelphia to study at the University of Pennsylvania with Neil Welliver in 1981. He is represented by the Gross McCleaf Gallery where he has shown his landscape, still life and baseball paintings since 1985. He has painted several murals for the Philadelphia Mural Arts Program, the State Farm Show Complex in Harrisburg and the Penn Club in New York City. A life long baseball fan, he began painting baseball subjects at Penn and had two one person shows of baseball paintings at the Butler Institute of American Art in Youngstown, Ohio, most recently in 2021. He was commissioned by the Philadelphia Phillies to paint three 10'x 30' murals of Philadelphia baseball stadiums for Citizens Bank Park and is scheduled for a one person show at the Blue Mountain Gallery in NYC in 2022.. In 2010 he started The BallPark Project, an endeavor to paint large, dynamic, fan oriented paintings of all 30 Major League Baseball ballparks. He blogs about his travels, the creation of the paintings and the ball parks themselves at maxmasonartist/blog.com.
Gross McCleaf Gallery
127 S Sixteenth Street
Philadelphia, Pennsylvania 19102
Email: maxmason338@gmail.com 
In Philadelphia I am represented by the Gross McCleaf Gallery:
Gross McCleaf Gallery
127 S Sixteenth Street
Philadelphia, Pennsylvania 19102
215-665-8138
Thanks for looking and I look forward to hearing from you!