After the euphoria of last nights' come from behind victory, (down 9-2 in the 8th, the Phils plated 8 in the final two frames to walk off with a 10-9 victory over the Dodgers) the physical misery of Citizens Bank Park's first game is a distant, forgotten memory. A bit more than 6 years ago our family was huddled under the huge left field scoreboard eating cold, soaking wet French fries while a driving sleet stung our red faces. It was opening day, 2004. As fans we had been eagerly anticipating this moment for almost 10 years. As an artist I had looked forward to basking in the successful installation of three 10' x 30' murals of Philadelphia Baseball Parks just unveiled in Harry The K's restaurant immediately below us. While the murals were safe and dry, we were not. In fact Lucy, our oldest, was sporting a 104 degree fever. We were desperately trying to put a happy face on a painful situation, and we were failing. Why bring this up when the Park has been such an unqualified success and the team is enjoying its most successful run ever? It's a great baseball lesson- you can give up three runs in the first inning, opening day can be a complete wipe out, but you hang in there, make prudent decisions, stay the course, (insert cliché here), and things tend to work out. Not always, but in this case they certainly did.
Opening Day, Citizens Bank Park, 2004
In 1992 a new generation of baseball stadia was born in Baltimore. Pioneered by Kansas City based HOK architects, Orioles Park at Camden Yards was built on the concept of integrating the ballpark into the urban fabric of a downtown neighborhood, revitalizing the area as well as making the games more accessible to foot traffic and public transportation. The interior design of the field itself was less symmetrical and reflected the design necessities of being crammed into a smaller space, like the beloved first generation of MLB Ballparks – Fenway Park, Ebbetts Field, Wrigley Field etc.  And we shouldn't forget the inclusion of two strata of extra income producing luxury boxes. It didn't work out exactly like that in Philadelphia but, to make a long story short, an intimate, baseball only jewel box of a ballpark opened in 2004 and it ushered in a new era of prosperity and success for Philadelphia professional baseball.
I don't remember when Ewing Cole Architects (in partnership with HOK) was awarded the new Phila Ballpark job, but a charge went through me when I heard the news. This, as they say, was what I was been waiting for. I was painting murals for Philadelphia Mural Arts Program and had contacts in Phillies organization from my baseball paintings. To design and paint a mural(s) at the new Ballpark was a once in a lifetime opportunity, and, quite frankly, I had an inside track. I immediately contacted one of the project managers at Ewing Cole, Don Jones, and made my pitch. If he could point me toward a space where a mural or series of murals would be appropriate, I would design and sketch a proposal for those specific spaces, integrating the murals into the design of the building. Don pointed me toward the very long and narrow spaces above the concession areas around the main concourse. I sketched out four long, thin images of Philadelphia Ballparks in pastel. The idea of the Ballparks was a hit, but the site was changed to Harry the K's, a sit down restaurant overlooking left field.

"Rounding First at Citizens Bank Park", mural, Citizens Bank Park, 10′ x 30′

"500 Level, The Vet", mural, Citizens Bank Park, 10′ x 30′

"August, 1964, Connie Mack Stadium", mural, Citizens Bank Park, Citizens Bank Park
All of this background is a way of saying the BallPark Project painting of CBP happened almost as osmosis, it just seeped out with very few specific sketches or major design changes. The only thing sticking in my craw was whether Lucy's large profile on the right was too intrusive. I desperately wanted it to work since she had been given sort shrift in the mural of The Vet, which featured our family sitting in the 500 level. That's Zee Ann on the right, Margaret on the left, and my hands holding the scorecard. (for extra credit- How can you tell they are my hands?) Lucy is there, two times actually, but she is harder to spot.
Now that Citizens Bank Park has hosted some of the most illustrious history of the Phillies franchise, I decided to depict a moment Zee and I witnessed. On the second to last day of the 2008 season the Phillies were one game ahead of the Mets in the National League East. A victory over the Washington Nationals would clinch the division title. It is the top of the ninth and the Phillies are clinging to a 4-3 lead. The bases are loaded, there is one out and the Nationals best player, Ryan Zimmerman, has just hit a scorcher up the middle. Jimmy Rollins dives for it and….  The rest, as they say, is history.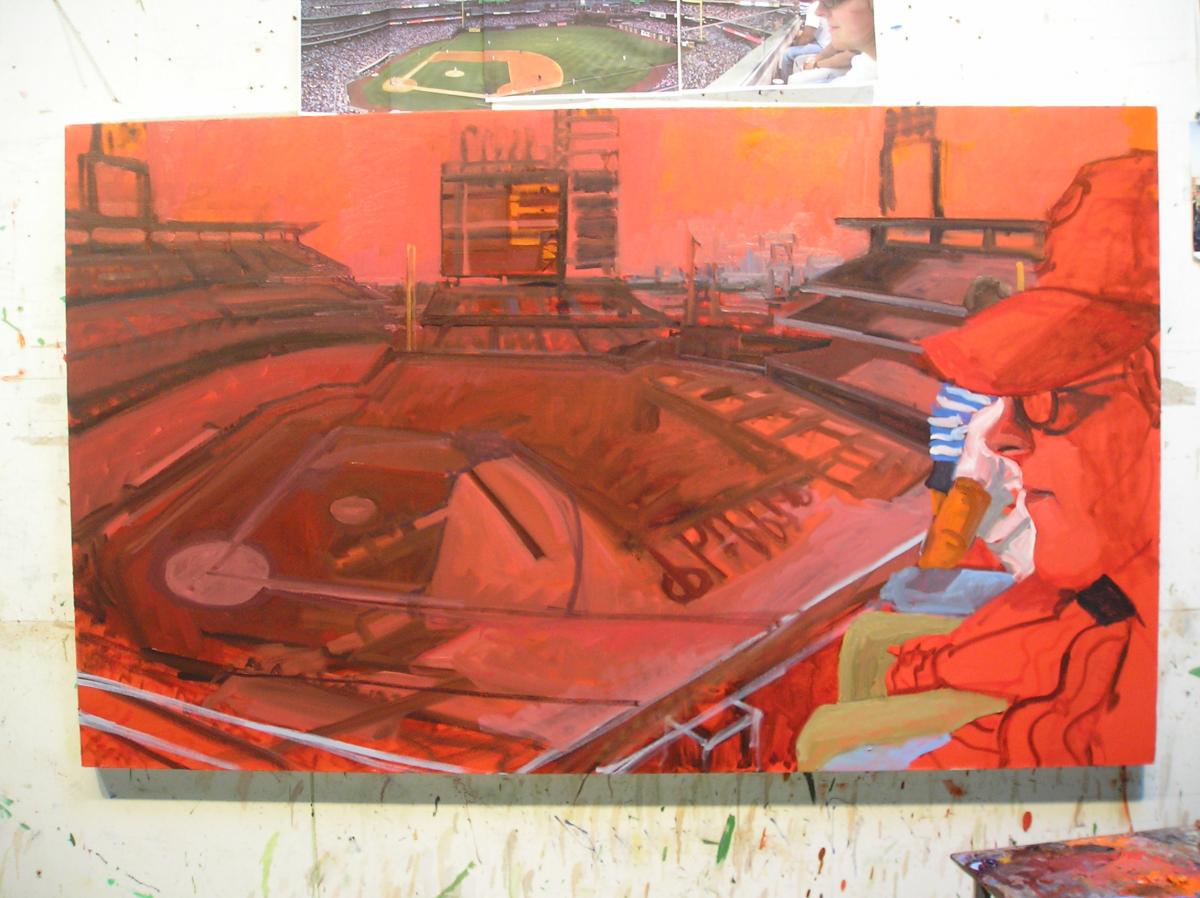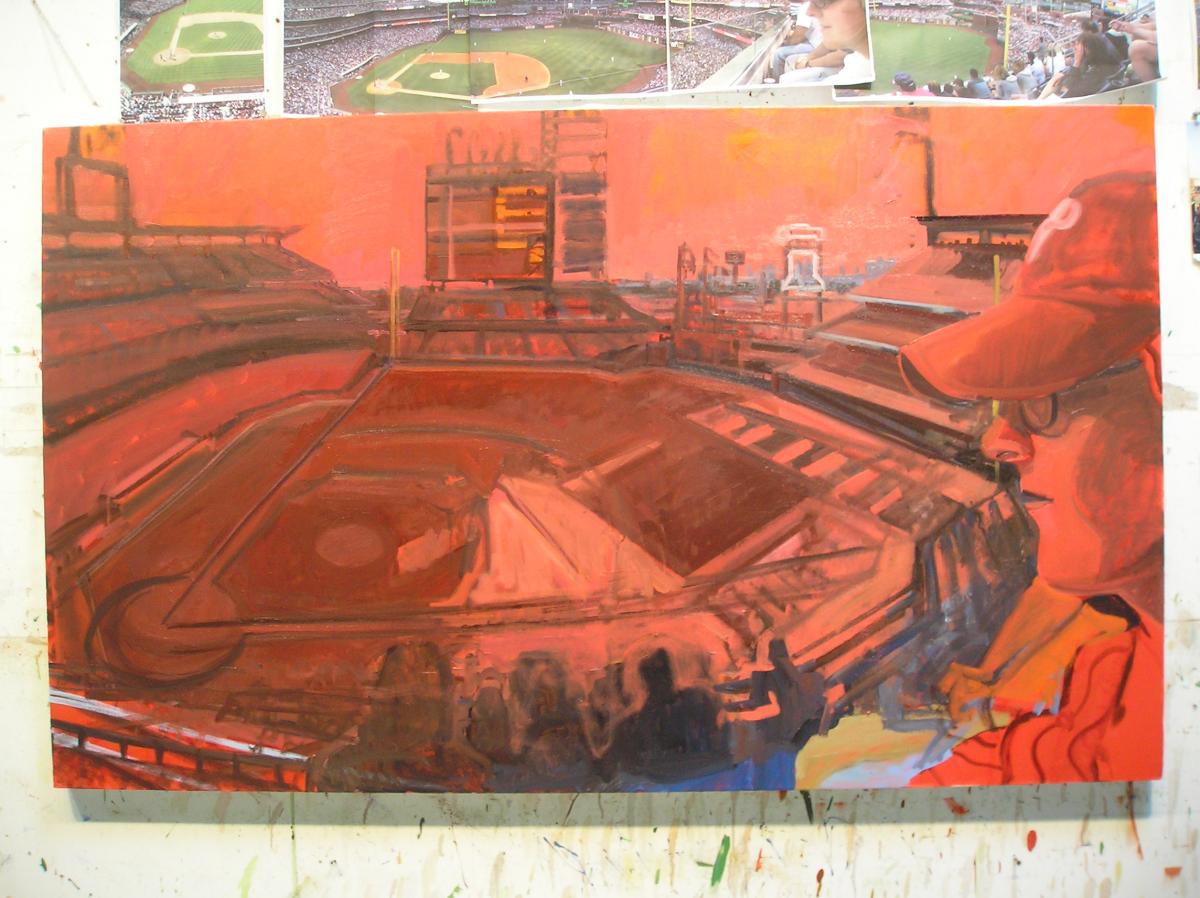 "Double Play at Citizens Bank Park", oil on canvas, 36″ x 60″, 2010