"Tight Spot in New Yankee Stadium", oil on canvas, 36″ x 60″, 2012
$225 + $25 shipping
prints: 21″x 31.5″, image size: 17.5″ x 28″
(Written in 2012)
Now that they've gone down to what can only be called ignominious defeat, it's a lot easier to talk about.  I really don't like the Yankees, even with classy Raul Ibanez being a hero and the superlative Derek Jeter breaking his ankle on a routine ground ball. I'm happy for Raul and sorry for Jeter, but had a hard time watching the Tigers-Yankees ALCS series for fear the Bronx Bombers would rise up from the dead and claw their way to whatever number it is World Series. I'm hardly alone in feeling this way, but you'd think I would have gotten over it by now. Several of my best friends are Yankee fans. They have a gorgeous, though somehow cold and menacing new Stadium. Current and recent managers Joe Girardi and Joe Torre are stand up guys, a far cry from the rodent like, scarily irrational and frequently drunk Billy Martin. Still, I find little pleasure in watching a game from Yankee Stadium and put most of my energy into pulling for the Yankees to lose, a complete contradiction of my basic tenet that the geometries, rhythms, traditions, and history of the game are far more important and meaningful than a particular rooting interest. A perfect example dates back to 1997 during the first year of interleague play. The Phillies found themselves ahead of the Yanks late in a game in New York- this despite the fact the Yankees were World Champions and the Phillies mired in last place. (one is always mired when in last place) An almost overwhelming, all too familiar sense of dread crawled up my back as Ricky Bottalico started getting behind in the count and Yankee batters fouled off the strikes he did throw. It was a feeling I remembered all too well from my childhood in suburban Boston. 20 years later, in Philadelphia, married with two wonderful children, I knew there was no way the Phillies would hold off the inevitable. In the deep blackness of the New York night, with the monolithic Bronx courthouse looming behind the right field stands, the Yankees would find a way to win, and they did. I don't remember how because I, being weak, turned off the television and went to bed. Reading about it the next morning confirmed there was no escape from the eventuality that my team would always be overtaken and walked over by the Yankees on their way to another World Championship. Hyperbole, yes, but also true. (In fact the upstart Florida Marlins beat the Cleveland Indians in '97, though the Yankees did go on to win the following three championships)
It's a bit different in the art world. From what I can tell there are relatively few paintings of Yankee Stadium compared to Ebbetts Field, Fenway Park and Wrigley Field. There plenty of wonderful paintings of Yankees, along the lines of "The Wide Swing", by Harvey Dinnerstein, and "Babe Ruth Calls his Shot". (which took place in Wrigley Field) But Yankee Stadium itself seems strangely under represented in the baseball art world.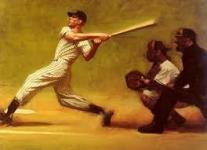 "The Wide Swing", Harvey Dinnerstein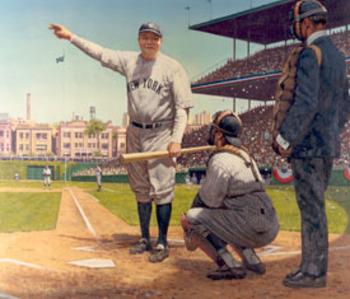 "The Babe Calls his Shot", Robert Thom (with Wrigley Field in the background)
From my point of view all three versions of The Stadium are a wonderful subject. I guess it's good to have an enemy as far as motivation. The first "House the Ruth Built", which I never attended, alas, is the setting for "Full House", a painting which dates back to 1988.

"Full House", oil on canvas, 28"x 80", 1988
The Steinbrenner championed and financed new Yankee Stadium is the backdrop for the apocalyptic (in a good way!) "Hell Freezes Over", (See earlier Yankee Stadium Post for a full description and explanation) and also an action painting of Roberto Kelly's attempt to catch a gapper.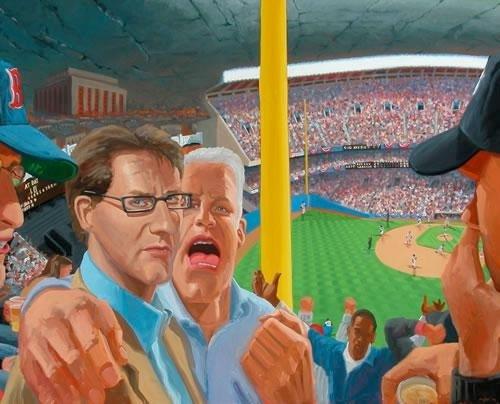 "Hell Freezes Over", oil on canvas, 48"x 60", 2004-5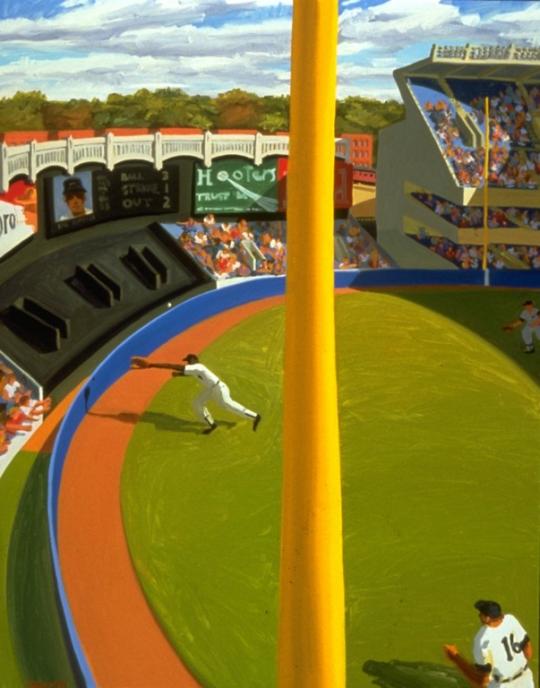 "Yellow Pole", oil on canvas, 48″ x 72″, 1991
The newest Yankee Stadium and its environs are the main subject of the recently completed "Tight Spot at New Yankee Stadium".
"Tight Spot at New Yankee Stadium", oil on canvas, 36" x 60" , 2012
The fact is, Yankee Stadium, old or new, is a fabulous subject. It embodies much of what I try to communicate in my work, overlapping layers of personal and historical meaning, a rich and detailed architectural design, an inner city site that emphasizes the contrast between the visual purity of the baseball diamond and the scrabbly, tangled reality of the world outside. It is the perfect essence of a sanctuary- with great historical figures, folk heroes and 20 whatever it is world championships to boot. It is a place of myth and terror for opposing fans. Interestingly and appropriately enough all three of these Yankee Stadium paintings are a mixture of invention and personal experience. Maybe that is doing the place(es) justice, as our worst fears are frequently imaginary, even while founded in painful fact.