I find it hard to believe I have been alive for most of Fenway Park's existence. It has been around forever, right? The home of the Boston Red Sox is Major League Baseball's oldest ballpark and is celebrating it's 100th season this year. The numbers, however, don't lie. 59 seasons have run their course since I turned up in 1952. Fenway Park opened its doors only 41 before that, in 1912.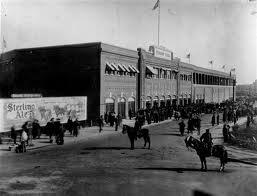 Heck, Babe Ruth was still in St. Mary's reform school and didn't throw his first pitch for the Red Sox until 1914, the same year Wrigley Field opened. Those two, Fenway and Wrigley, are the only two parks that have survived virtually intact from that era and are now viewed as shrines. They have the dimensions and architectural qualities that baseball fans view as "classic" and "ideal". This is largely because of the proximity of the fans to the field of play and their downtown locations, not their obstructed views and antiquated rest room facilities. They are so revered a whole new generation of ballparks has been designed and built using them as guideposts. Ironically Fenway Park itself wasn't designed so much as crammed into a very limited footprint in a Boston downtown neighborhood in order to be near customers and the trolley car lines that brought them to the Park. Its idiosyncrasies aren't contrived, but are the result of practical necessity. As is the way with evolution they are now seen as essential attributes. The only new ballparks that compare in this regard are AT +T in San Francisco, Target Field in Minneapolis, and, to a lesser degree, Petco Park in San Diego. Still, the asymmetrical field dimensions, the towering  "Green Monster" in left field (a 1934 addition that replaced a rather steep incline known as Duffy's cliff, named after ball hawking outfielder, Hugh Duffy), even the exterior billboards are considered distinctive Fenway features that have become iconic and continue to move and excite generations of baseball fans.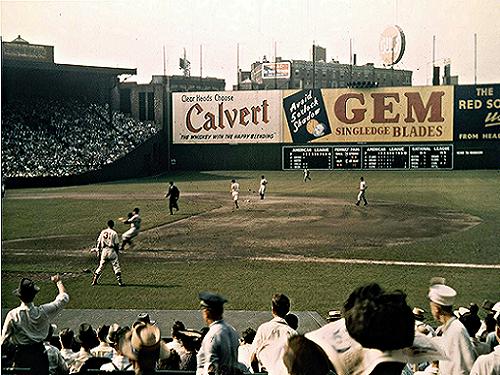 Although I grew up in Lincoln, a suburb west of Boston, my father never took me to Fenway Park. He was from outside St. Louis and we would go to old Sportsmans Park during our annual summer visits to the hot and humid mid-west. He, my grandfather, uncle, and I would drive into the city, park, and walk the hot sidewalks to the ballpark. It was the only time I saw black people and to my young eyes they all wore white tee shirts and waved cars like ours onto their front lawns.
The rise of Carl Yastrzemski pretty much coincided with my becoming a diehard Sox fan. By the summer of 1967 I was hunkered down with friends by a transistor radio in upstairs bedrooms listening to Ken Coleman and Ned Martin describe the exploits of Yaz and Jim Lawnmower (as we called pitcher Jim Lonborg).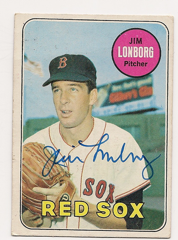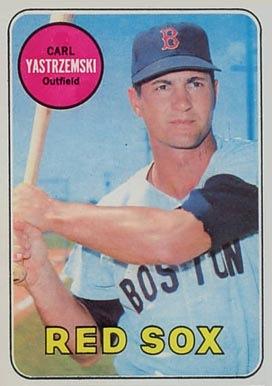 While parents partied below, one of whom occasionally popped his head in to check on the score (and monitor our beer consumption no doubt), Yaz and Jim were making believers out of all of New England. For the first time in our lives the Red Sox were in contention by the time school started after Labor Day. When they won the pennant on the last day of the season there was a citywide celebration and I was as excited as any 15 year old in town.
I started going to games at Fenway in earnest in the mid 70's. It was cheap and easy to get tickets. When at the Boston Museum School I would walk over on the spur of the moment with friends Alec Marsh and/or Bill Ciccariello. We'd spend the odd evening or afternoon watching Dewey Evans, Butch Hobson and a now aging Carl Yastrzemski try to keep pace with the resurgent Yankees.  That is the Fenway I best remember, no Green Monster seats, no Jumbotron, and plenty of available seating.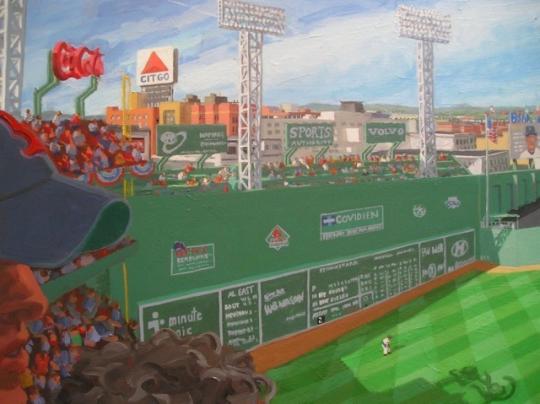 The Green Monster and Citgo Sign, 1975/6?
The Game and Johnny Pesky-
In the old days it was cold during early season Sox games.  When I ordered a single ticket for the second Red Sox home game of the season I was thinking back to my days of shivering in the bleachers while snow flurries blew past new star, Californian Fred Lynn. (we're talking '75,'76)
Well, it was a gorgeous 75 degrees on April 14th,  when I settled into my $100 seat in the very last row of the fairly recently added upper deck above third base.
At the game was a Mr. Hogan who was born on the very day Fenway Park first opened its doors, exactly 100 years ago. Also present to throw out the first ball was the man who has come to represent the heart and soul of the franchise, Ted Williams' pal Johnny Pesky.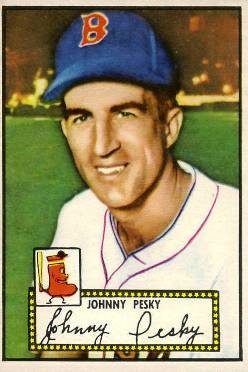 He starred as a player and was a manager and coach for many years after. Most of all, he was, and is, a great guy. David Halberstram wrote a wonderful book  "Teammates" about Johnny's friendship with three other Sox luminaries, Dom DiMaggio, Bobby Doerr and Ted Williams.
On my first trip to spring training in 1987 I met Johnny Pesky. He was still coaching a little and very gracious as he answered some questions I had about the old wool uniforms. "They were horrible!" he confided and even signed one of a couple sketches I did of him. He received a heart felt standing ovation and could still get the ball to the plate at age 92.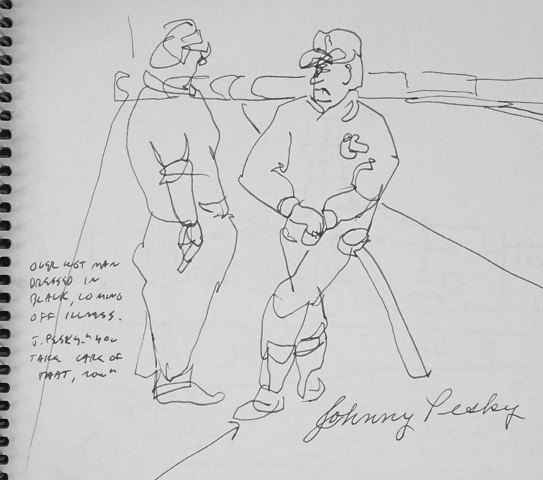 The game itself turned out to be a Red Sox rout despite a 4 run Tampa Bay Ray first inning.
I sketched comfortably most of the game and, I thought this was odd, no one expressed any curiosity at what I was doing. It was as if they were thinking, "Well, I'm at Fenway, of course there is an artist sitting next to me."
At one point, as the shadows of the light towers began to reach across the infield, I had a "whoa" moment. Pitcher Clay Buchholz was looking in for the sign in full sunlight, the pristine mow strips converged toward a spot in the bleachers and the Citgo sign was lit up by the late afternoon sun behind the green monster. It was, in true Fenway fashion, classic.  Once the shadows completely covered the field, I squeezed out of the narrow row, grabbed a beer, and snuck out just as Cody Ross put the game away with a bases loaded double off the monster in the eighth.
Painting the Painting-
All this miscellaneous info was in the back of my mind as I began to paint. I had the main composition and light pretty well set. The composition was based on a pen and ink I did during the game and the light was the "whoa" moment when the shadows had just begun to reach beyond the third base line, but the foreground was completely a "game time decision", as pal Wes Goldsberry likes to put it.
One of the most dramatic Fenway Park experiences I ever had was in 1986 during the World Series against the Mets. Bill C was able to get standing room tickets for game #4. I drove up from Philadelphia and we got inside as soon as the gates opened. It was a beautiful, crystal clear early autumn afternoon. I had brought a small etching plate and sketched Bill during the Mets batting practice. I still remember the young Daryl Strawberry and Kevin Mitchell horsing around like it was just another afternoon in a neighborhood park.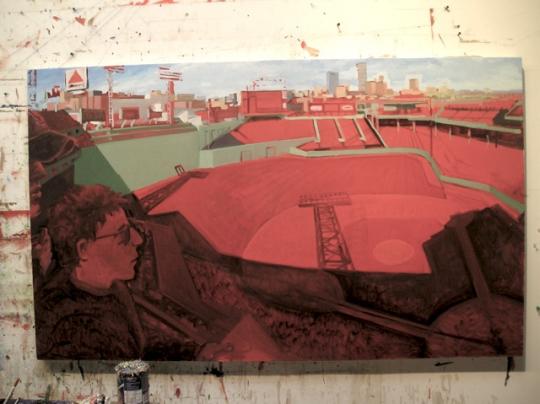 If I could integrate that it would be fun, so I sketched him in.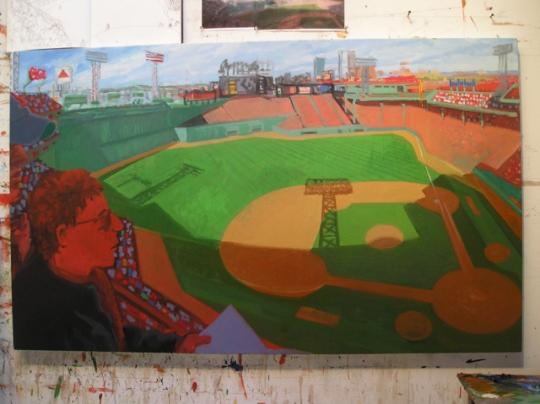 Another face poked his way in from a photo I had taken as I continued to work and the color of the field looked great against the red orange ground.
As I turned the screws and tightened everything I began including more small scale information, Harvard University across the Charles River, the Great Blue Hills, even Rt 2 climbing Belmont Hill, the route I'd always take when heading back to Lincoln from the city.  You couldn't actually see any of that from my seats, but I wanted the painting to be about Boston and the larger experience of having grown up there.       [[wysiwyg_imageupload:118:height=300,width=400]]
I also changed the opposing team to the Yankees because the larger truth of the Yankee- Red Sox rivalry being at the heart of the spirit of Fenway won out. And the batter had to be Derek Jeter, a Yankee even the most diehard Red Sox Nation citizen respects.
Johnny Pesky also makes an appearance in the form of an advertisement on the scorecard Bill holds.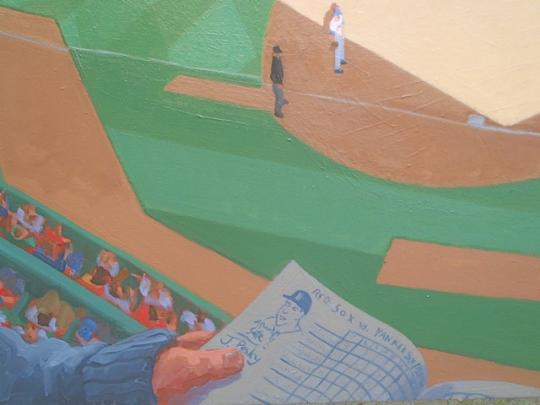 A friend pointed out I had forgotten the base umpires, true, and another thought it would be nice to have the gold Statehouse dome in there somehow, which I was able to slip in. It became the kind of painting one could work on forever. There always seems to be some small correction or addition to be made and I'm sure I'll have a few "Doh!" moments when someone points out an inaccuracy or omission. But, for the moment, BallPark Project Painting #8, "Fenway Park, Home of the Boston Red Sox", is finished.
"Fenway Park, Home of the Boston Red Sox", oil on canvas, 36" x 60", 2012