Blog Entry 1
"Doubtless, there are better ways to spend summer days, summer nights, than in ballparks. Doubtless. Nevertheless, decades after a person has stopped collecting  bubble-gum cards, he can still find himself collecting ball parks. And not just the stadiums but their surrounding neighborhoods, their smells, their special seasons and moods."
Thomas Boswell, From "How Life Imitates the World Series"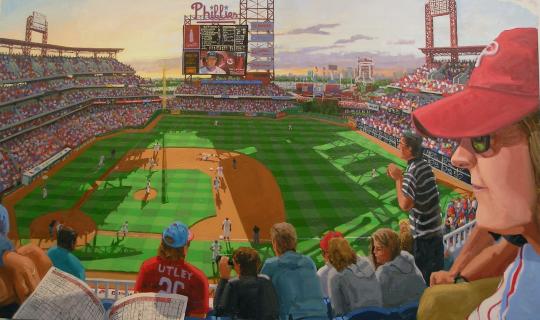 "Double Play, Citizens Bank Park, 2008″, 36″ x 60", oil on canvas
This blog begins, as almost every baseball story does, with a child emerging from darkness and smoke. Dad and Uncle Tom are just ahead, leading the way out into the light to look down on a perfect green field. The Cardinals are taking infield in their home whites with red piping, throwing the ball around effortlessly while the dark right field grandstand and light standards rise up behind them. It is July in St. Louis, 1961.
The Cardinals beat the Phillies that day. I was shocked when the Phillies took an early lead because, being an avid reader of the St Louis Dispatch sports page, I knew they were in the middle of a losing streak that would eventually grow to a record breaking 26 games. More shocking would have been the knowledge that I would eventually move to Philadelphia, marry, help raise a family and become a die hard Phillies fan.
For many years I made sketches and small paintings during games. When not going to nearby Veterans Stadium, I'd head up to Yankee Stadium, or Memorial Stadium in Baltimore, snag a ticket in the high up cheap seats, spread out with my watercolor gear, and have at it. Before the game ended I'd grab a celebratory beer and sneak out to beat the crowd. Nowadays I prefer to go with family and friends, soak it all in, take some pictures and make mental notes. The paintings have become collages of many games and moments rolled into one concrete image. I still refer to those earlier sketches, as well as my baseball card collection, a few favorite reference books and my own photos and memories. Each painting is it's own mix of reference, memory and myth.
The idea of painting all 30 major League BallParks came to me after completing a commission of Petco Park in San Diego. I tried to get everything into the painting. In addition to the, field, stands, scoreboard, fans etc. I choose a high vista that harked back to the days when I would sketch in watercolor from the stands. From there I could see the city in the background, the Pacific Ocean behind the Western Metal Supply Building, a Southwest Airlines jet skimming between downtown office buildings before landing, as they do in San Diego, in other words, Kit and Kaboodle.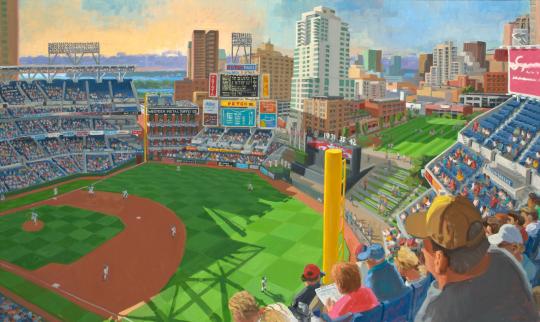 Petco Park, oil on canvas, 36 x 60
The painting was a big hit and it just occurred to me, why not do this same kind of thing for every BallPark? Each painting will be a record of the BallPark, the team, as well as a portrait of the city and the fans.
The Blog will enable me to post photos of the sketches, travel experiences, in progress reports of the paintings as well as the finished paintings. Prints of the paintings can be ordered and whatever else, calendars, note cards, "you tell me!", in addition to the paintings themselves. The finished paintings are going to be roughly 36" x 60", yes, sofa sized! With all this in mind I set out toward Citizens Bank Park in hometown Philadelphia last month. There it is, hot off the presses, leading off the blog.  That is daughter #1 Lucy on the far right.  And so, we begin…..